The raw materials that Linea Stone uses to build our benchtops are only the best and quality will not be compromised in achieving competitive pricing. Click on a tab below to view more information about each stone type. To view our range of colours click here.

Caesarstone; back in 1987 the company was the pioneer of engineered stone and continues to be a market leader in quality. The product is manufactured in Israel and distributed in NZ by Laminex (a Fletcher Building subsidiary)

Silestone; another market leader entering the market in the 1990s. The product is manufactured in Spain and distributed in NZ by the parent company
About Engineered Stone
Engineered stone is made up of around 93% quartz. The balance of the slabs consists of binding agents and colouring. Quartz is one of the hardest elements in nature which is what gives engineered stone its hard wearing characteristics.
In the manufacturing process the materials are compressed and baked, then the top surface is polished prior to distribution to the likes of ourselves.
During the manufacturing process there are no polishing agents utilised and similarly none are required during the lifetime of the product. This low maintenance aspect is a key advantage.
The engineered stone we work with is 20mm or 30mm thickness. To establish 40+mm thicknesses we mitre 20mm stone to give the appearance of any thickness you'd like.
Due to quality issues, we do not work with engineered stone thinner than 20mm.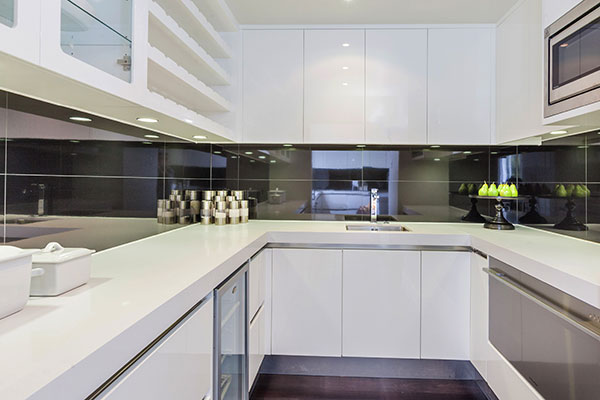 Snow Benchtop by Caesarstone
Advantages of Engineered Stone
An abundance of choice in light colours
Options in simple or minimalistic patterns (slabs do not vary materially)
Low maintenance. Slabs are non-porous and no sealing is required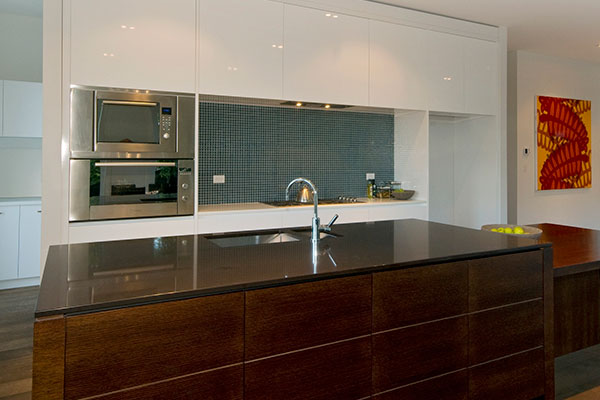 Raven Benchtop by Caesarstone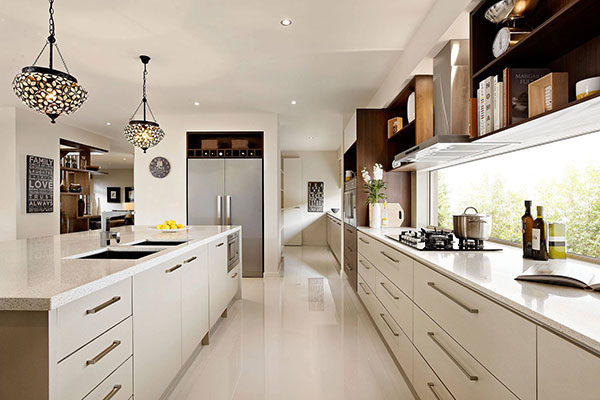 Nimbus Benchtop by Caesarstone
At Linea Stone to keep costs down and offer maximum variety we source granite from the following leading Auckland distributor's.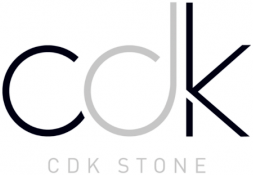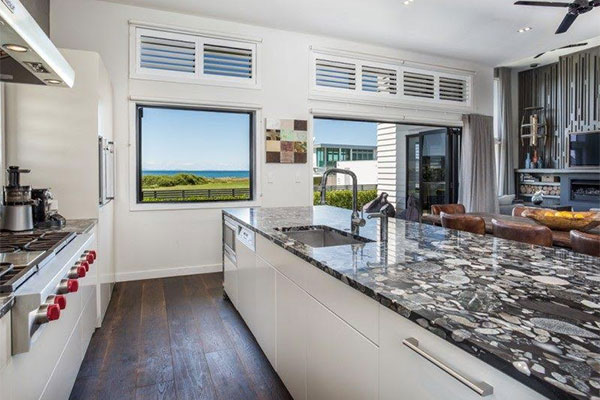 Granite - Marinace (30mm)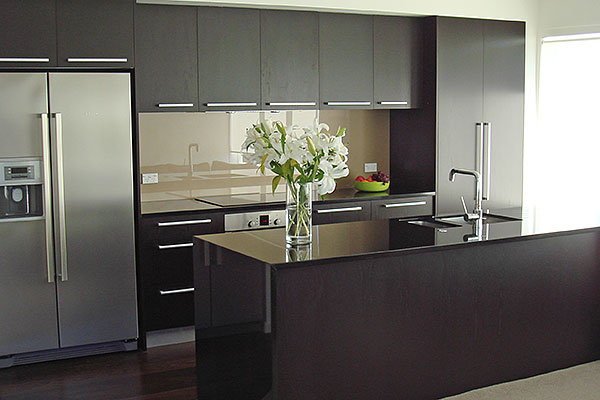 Granite - Absolute Black (30mm)
About Granite
Granite is a form of rock that has been created deep in the earth from magma which has forced its way to the outer crust of the earth through cracks and holes. It is reasonably common and found in numerous countries, having been formed over millions of years. At the earth's surface the granite is mined in large blocks and then sliced with diamond wire or saw blades to form slabs. The slabs are then polished on one face before being shipped to fabricators such as ourselves to prepare for you.
Advantages of Granite
Customers chose granite because they like the beautiful grains and individuality that it offers. No two slabs will be the same. The product will also often offer different textures such as honed or leathered finishes rather than polished.
Thickness is generally 30mm although many colours are also available in 20mm. It is possible to mitre the front edge to achieve thicknesses greater than 40mm.
Granite benches are unquestionably hard wearing. A key difference from engineered stone and porcelain is that they are porous, meaning that liquids can penetrate and stain and also bacteria can penetrate the surface. To remedy this the bench top surface is sealed which is similar to polishing a car. The sealant will last 5-8 years on a typical granite bench with a good quality sealer. Softer granites will require sealing more regularly.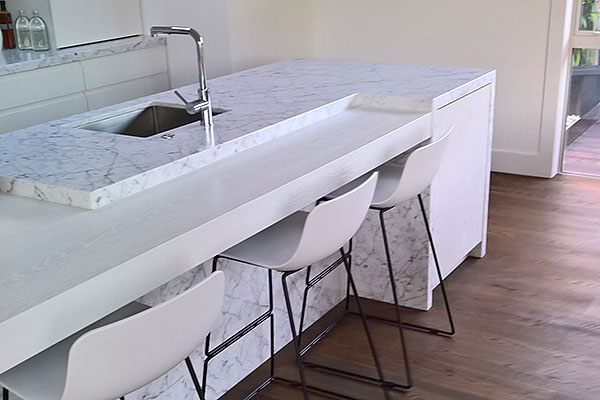 Marble - Carrara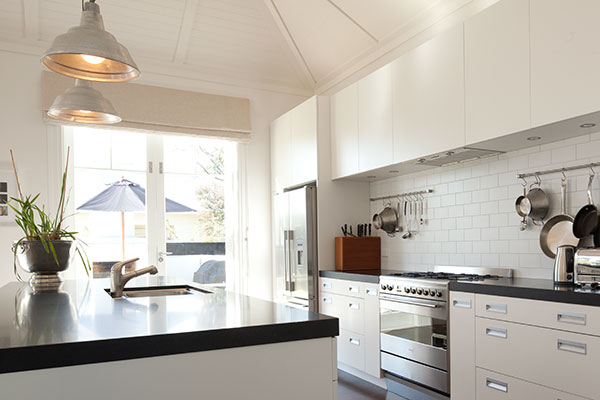 Granite - Absolute Black
We choose our Porcelain slabs from the following Brands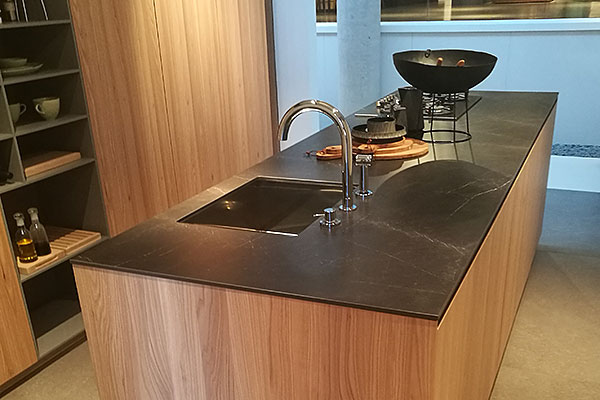 Storm Benchtop by ECXtra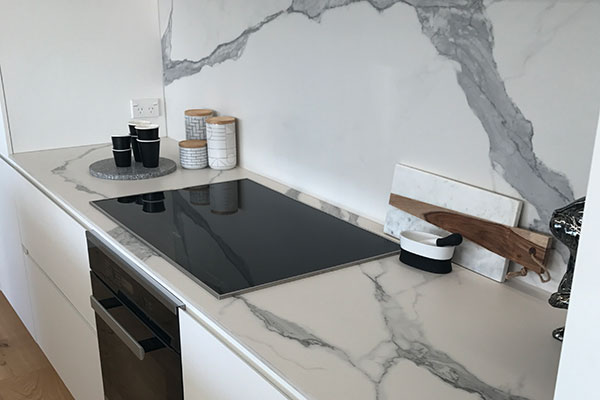 Stat Benchtop & Splashback by ECXtra
About Porcelain
Porcelain (or Ultra Compact Surfaces) is a new breed of stone introduced to the market from the mid 2010's. The easiest analogy is the creation of machinery which now allows the manufacture of oversize porcelain tiles (though some brands are closer to a ceramic than porcelain). These slabs are up to 3.2m x 1.6m, similar to the larger engineered stone or granite slabs.
At this stage the slabs are compressed in a uniform colour with an extremely hard wearing print applied to the top surface. Being a print means that a variety of extremely realistic granite and marble looks can be achieved on a thin, non-porous, hard wearing surface.
These surfaces are the latest in vogue. In particular, sleek 12mm thicknesses can be achieved. Many colours are also available in 20mm and we can mitre front edges to create the appearance of 40-80mm.
Advantages of Porcelain
Low maintenance. Slabs are non-porous and no sealing is required
Extremely high heat resistance
Ability to offer sleek 12mm profile as well as 20 - 80mm
Options include life like copies of marbles and granites as well as minimalistic monotones
Option for leathered finishes on selected colours
View Porcelain colour range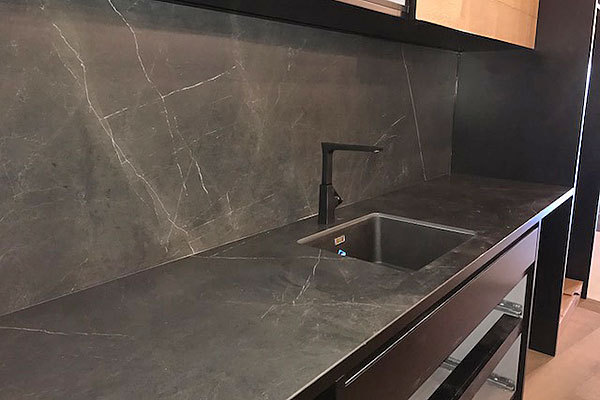 Storm Splash & Bench by European Ceramics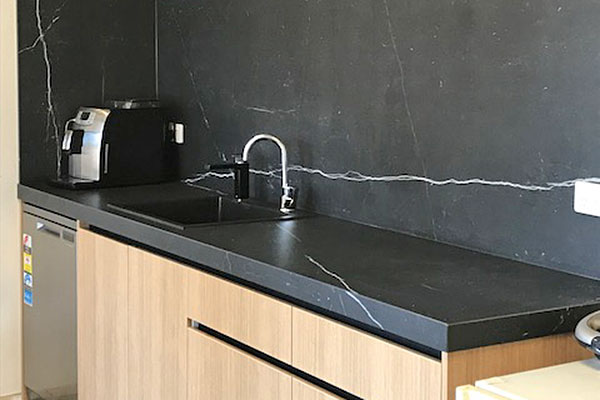 Nero Marquina Splash & Bench by European Ceramics