At lineastone we have a focus on quality and volume. This has price advantages for residential customers and very importantly also gives us an edge over our competitors with commercial jobs.
The Intermac Master 30 and 33 CNC we operate have the ability to operate 24 / 7 if required, giving us the ability to deliver large volumes with short lead times. We also invest in the highest quality Italian tooling which deliver unparalleled quality and speed. The Intermacs run 20mm and 30mm granite or engineered stone with ease.
To compliment the Intermacs we have one of New Zealand's only specialized mitre saws. By cutting face down with air rams on this saw, we avoid issues with a) stone varying in thickness between 18mm and 22mm and b) the fact that full sheet slabs are slightly bowed. Either one or both of these issues give an uneven mitre cut that, unlike our competitors, our fabricators need not wrestle with. The result is a quality join on the finished product with reduced fabrication time.
Our digital templating also allows very fast and accurate measurements of multiple benches, including complex assignments.
As a result of our setup and resultant pricing we frequently work on multi-unit townhouse developments, retirement villages, group homebuilders and commercial fitouts.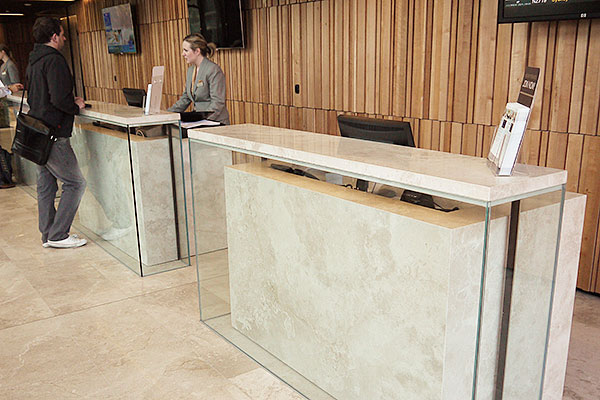 Novatel Reception Desk - Limestone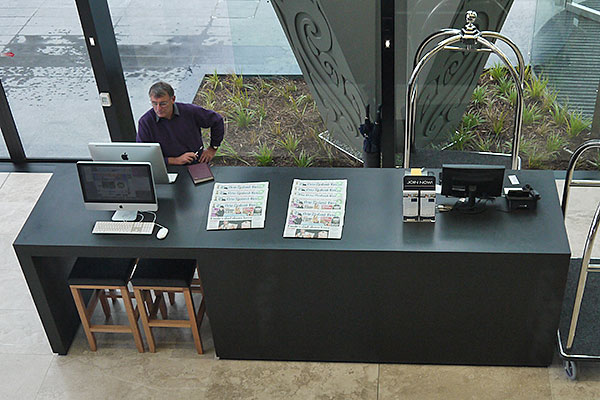 Novatel Guest Services - Granite Absolute Black
Examples of our commercial work completed includes:
ASB Head Office, Halsey Street
ANZ Tower foyer
Eden Park corporate boxes
Novatel, Auckland Airport
Laminex
Deloittes
The Block
Ernst Young
Eden Oceancare Retirement Village
CBRE
Nielsen Building
41 Shortland Street
70 Shortland Street
Eye Magazine
Lowndes and Jordan
Next Generation Gymnasium
Smeg
Miele Showroom
Kathmandu
Stamford Plaza
The Cloud
Rendezvous Hotel
Papatoetoe Multisports
Bell Gully
Ronald McDonald House
Mi Piaci
Kensington Park
Matavai Hotel, Nuie
Marsh Insurance
BASF
Montrose Apartments
Travelodge
Gelato Icecream Parlour
Fuji
Intercontinental Wellington
Mt Smart corporate boxes
Staples Rodway
Pulman Hotel
21 Queen Street
Maori TV
Mercy Hospital
Ranui Medical Centre
Overland Shoes
Bodytech Gymnasium
Puhoi Cheese Factory
151 Queen Street

Novatel Bar - Granite Absolute Black